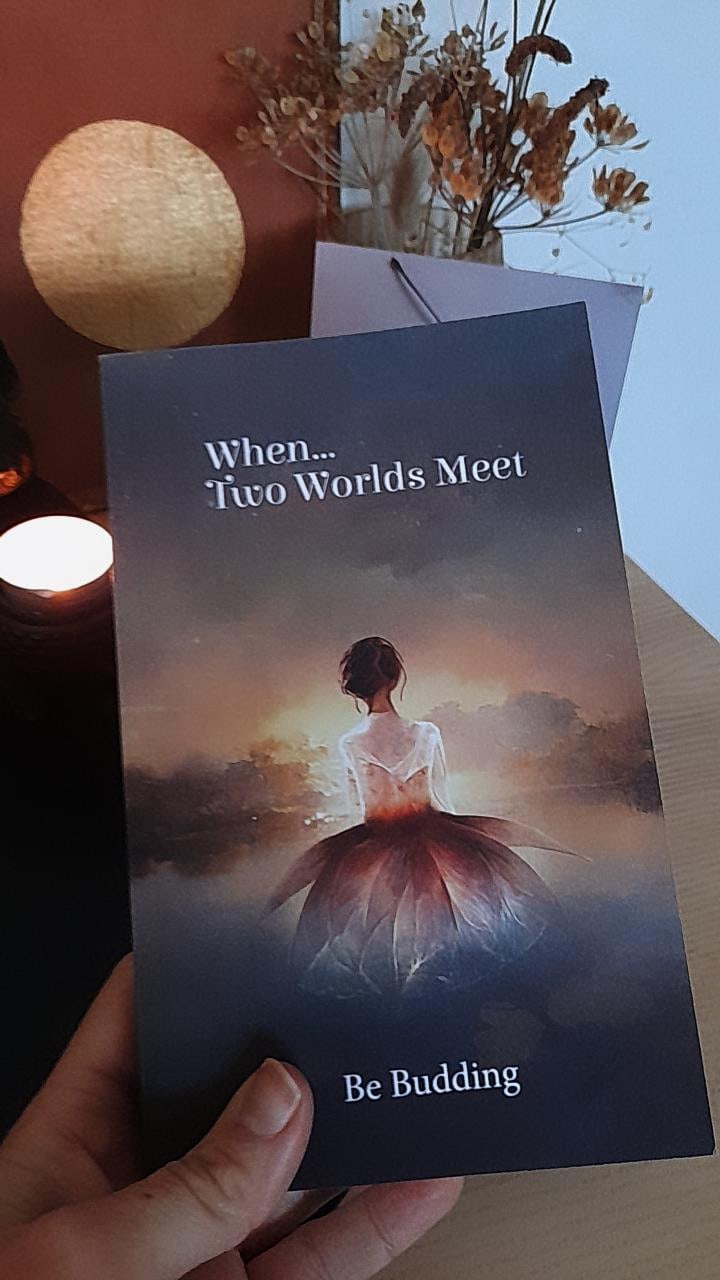 Poetry Book
When…
Two Worlds Meet
When…Two Worlds Meet is the second poetry collection by Be Budding and a sequal on her debut poetry book Between Worlds.
This collection contains more than 90 inspiring poems on birthing your Soul into being in this very lifetime! It is a coming together of the body and the spirit.
We came to Earth to sow our stardust and spread our Magic. For this, we first have to discover who we are and grow from there.
Once you understand what you are about, you can truly start living a meaningful life.
This poetry collection is of great support and inspiration to start walking in the footsteps of your own legend.
Let's start living!
"Open up the pages
Read, follow, listen,
Don't be hasty, all is in time
When…Two Worlds Meet, you are being realigned"
~ Be Budding
What people say about 'When…Two Worlds Meet'
These words invite us to view unexplored horizons and the re-framing of what we know and don't know.
This collection is a lyrical song that acts as a catalyst, melding our dreams and desires with our old fears and view of reality. We're left with new definitions, an awakened sense of peace and excitement, and new portals to explore.
Each reading brings fresh awareness and unexpected insights. All we need do is be willing and open to new possibilities.
Order the poetry book here!
~ choose your country (or the closest one) and receive the magic on your doormat ~
The poems of When…Two Worlds Meet
invite, inspire and motivate you to uncover your Star Magic and let
your Light shine through your incarnation in this Lifetime.
For so long we have hidden our true selves.
The masculine and feminine was out of balance.
Our Body and Soul were seperate.
Now, we are called by Mother Earth to do the sacred healing work.
In this lifetime we remember what was given to us and we start to
re-unite all our parts, in order to restore paradise.
Tune into the grid – which is carefully put into place all over the world –
read these words channeled through intuitive writing and…
enter the Higher Frequency of Love that connects All of us.